As we round the corner into 2021, businesses need to start considering year-end expenditures and what taxes will look like for 2020.
While tax write-offs may seem like only problems for large corporations, even small businesses can take advantage of tax breaks from buying capital equipment.
What Is the Section 179 Deduction?
This section of the IRS tax code allows businesses to deduct the purchase price of equipment and software. According to Section179.org that means "if you buy (or lease) a piece of qualifying equipment, you can deduct the FULL PURCHASE PRICE from your gross income."
Before Section 179 came into effect, businesses had to write off equipment purchases through depreciation. That meant that if you spent $30,000 on a machine this year, you would write off how much that machine depreciated each year following.
With Section 179, businesses can write off the entire purchase price of qualifying equipment for the current tax year, so long as that machine is delivered and installed on or before December 31, 2020.
How to Save Tax Money With a Tormach Shop
Section 179 means that if you buy equipment and put it into use before the end of the year (up to $1,040,000), you can write off the full purchase price on your 2020 taxes. The whole purpose of this write-off is to motivate small businesses (and by proxy the American economy) to move in a positive direction.
Here are the key stipulations that businesses should keep in mind, in order to take advantage of Section 179.
Machine has to delivered by Dec. 31st
Need to have a minimum level of pre-tax income - Example: A business can't show $0 in income and use a $100,000 machine purchase to qualify for a $35,000 tax credit (assuming 35% tax bracket)
$1,040,000 threshold
Also, if you don't have the cash to buy what you need upfront, Tormach has partnered with Geneva Capital to provide financing for your machine needs. And if you finance your Tormach machines, you can still take advantage of the tax write-off on your 2020 taxes.
According to our friends at Geneva Capital, "A Section 179 Deduction allows businesses to write-off the full cost of their equipment purchases, dollar for dollar against their income, in the year that it's put into service. This is available regardless of how the equipment is paid for (cash/loan/finance/credit card), so long as it's not a 'lease' agreement."
Check out the chart below to see how much a machine could actually cost you after tax savings with Section 179.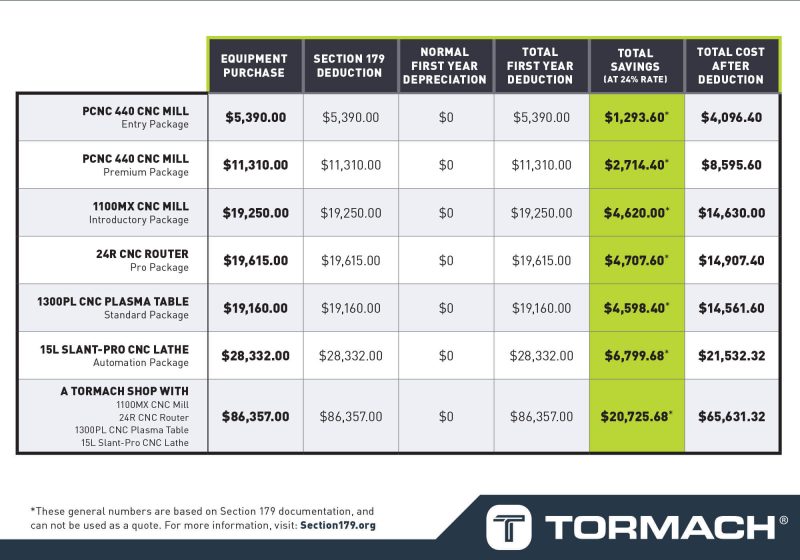 *These general numbers are based on Section 179 documentation, and can not be used as a quote. For more information, visit Section179.org or contact your tax professional.